INFO BELOW IS FOR THE 2019 SHOW.
CHECK BACK FOR THE UPDATED 2020 KIT.
The 2019 Johnson County Home + Garden Show does not print or mail the Exhibitor Kit. All information can be found in the Exhibitor Manual and the links below.

2019 Exhibitor Manual 2020 Manual Coming Soon
Please note that this page is always being updated as new information becomes available.

Additional Questions?
Contact Ryan McCune, Show|Office Administrator
816.931.4686 ext. 305 |RyanM@MPEshows.com
2019 SHOW HOURS
| | | | |
| --- | --- | --- | --- |
| | | | Exhibitor Access: |
| Friday | March 8, 2019 | 10:00 am - 9:00 pm | 8:00 am |
| Saturday | March 9, 2019 | 10:00 am - 9:00 pm | 8:00 am |
| Sunday | March 10, 2019 | 10:00 am - 6:00 pm | 8:00 am |
How-to create your company's
exhibitor listing
Create a new listing or update an active 2019 listing using the buttons below.
Move-In
Move-in letters with a scheduled time for each exhibitor will be mailed in February 2019.
General Move-In Hours
| | | |
| --- | --- | --- |
| Monday | March 4, 2019 | 10:00 am - 6:00 pm |
| Tuesday | March 5, 2019 | 8:00 am - 6:00 pm |
| Wednesday | March 6, 2019 | 8:00 am - 8:00 pm |
| Thursday | March 7, 2019 | 8:00 am - 8:00 pm |
| Friday | March 8, 2019 | 8:00 am - 10:00 am |
Move-Out
Dismantling of displays is not permitted until 6:01 pm March 10th. See
Exhibitor Manual
for details.
| | | |
| --- | --- | --- |
| All Areas | | |
| Sunday | March 10, 2019 | 6:01 pm - 10:00 pm |
| Exhibit Hall Only | | |
| Monday | March 11, 2019 | 8:00 am - Noon |
ALL BOOTHS IN THE LOWER LEVEL, BALLROOM, & FOYERS MUST BE REMOVED FROM THE BUILDING BY 10:00 PM SUNDAY MARCH 10, 2019.
Show Decorator | George Fern Company
Exhibitors are responsible for carpeting (required for all booths), tables, chairs, and wastebaskets within their exhibit spaces. Exhibitors can supply their own items or rent from the show decorator. An advanced purchase discount is offered. Click the order form button below for complete details. You many contact George Fern Company directly with any further questions.

Contact Kelly Hook, George Fern Company
816.221.0525 | khook@fernexpo.com
Order Form
Discount Deadline is February 22, 2019
Food Sampling
The City of Overland Park requires that all exhibitors sampling food during the show have a temporary food service permit.

To apply for a temporary food permit click on the button below. Application and payment can only be processed online directly with the City of Overland Park.
2019 Johnson County Home + Garden Show Event # SEP2019-00064
APPLY ONLINE

Deadline is February 22, 2019
Insurance Needs
Our 2018 fall and 2019 spring shows have all been set up so exhibitors can apply using this link: https://www.buttine.com/eventExhibitor.html

A few things to be aware of:
Exhibitors will have to pick the show from a drop-down list that includes shows other than just those run by MPE.
Marketplace Events is not selling this insurance and doesn't profit from it in any way. This is simply a resource for those exhibitors who don't already have the required insurance coverage per their contracts. They do not have to purchase this.
The Insurance clause is #5 on the Terms and Conditions page of all booth space contracts. For easy reference, exhibitors are required to have:
Comprehensive General Liability and All Risk Property insurance
Coverage must be from the start of move in to the end of move out
Coverage of at least $1,000,000 for each separate occurrence
Name Marketplace Events LLC and the venue as additional insured
Provide a copy of certificate of insurance to MPE
Contact Kendra Reilly Monahan, Buttine Underwriters Purchasing Group, LLC
212.867.3642 | kar@buttine.com
Brochure

Deadline is February 15, 2019
Additional Exhibitor Badges & Discounted Tickets
Credit Card Form
Hotel Information
We have negotiated discounted rates at the following hotel during the show:
Sheraton Overland Park Hotel at the Convention Center (attached to OPCC)
6100 College Blvd
Overland Park, KS 66211
913.234.2100
One King rate of $129.00 a night
Two Queens rate of $129.00 a night
For discounted rates Click Here to book online.
Discount Deadline is January 31, 2020
Parking
Exhibitors are asked to park in the Black & Veatch Lot during show hours to allow ample parking for customers attending the show. Exhibitors should only park in the 110th St Lot on move-in days.
BLACK & VEATCH LOT - 112TH AND LAMAR
Starting at 5:00 pm on Friday, March 8th we will have a FREE SHUTTLE running from the Black & Veatch parking lot at 11401 Lamar Avenue, Overland Park, KS 66211. This shuttle will continue to run each day show.

SHUTTLE HOURS:
Fri: 5:00 pm - 9:30 pm
Sat: 9:00 am - 9:30 pm
Sun: 9:00 am - 6:30 pm



If you plan to update your booth's showroom pieces or do not want to ship inventory back to your company consider donating it to Habitat Kansas City ReStore.

1. Donations are tax deductible – donation receipts provided
2. Save the cost of shipping
3. We'll collect the donation Monday morning after the show
4. 100% of ReStores profits go to help Habitat for Humanity of
Kansas City build homes, communities and hope in the Kansas City area
5. Help reduce items going into landfills

Jenna and Kari, our friendly ReStore Donor Managers, will be happy to answer any questions about donation criteria, get you signed up for a donation pickup or step you through the easy process. Contact us today before slots fill up.

Jenna Brown Kari Tripses
816.678.7600 | jbrown@habitatekc.org 816.591.9806 | ktripses@habitatkc.org


Marketing Kit
Make sure to increase your sales, leads and awareness by taking full advantage of the Show and our many traffic drivers. As things get a little tougher these days we all need to work a little harder. One way to do so is stand out from your competition. We have a few options to help out!

Stand out from the competition and increase your presence on the Show floor with our surprisingly affordable marketing options. Book an advertisement in our Show guide, or opt for placement in an e-blast or web banner to highlight your company before the Show even begins.

Click Here for Traffic Drivers
EXHIBITOR WEB BUTTON
Bring potential customers to the show by providing this ticket discount on your website.

Just follow the below steps:

1. Save a copy of the button (right click & save the image to your computer)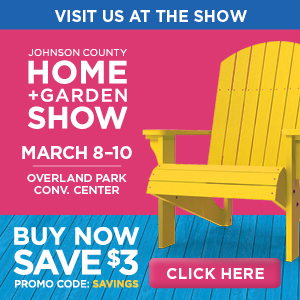 2. Have your web developer upload the web button to your website

3. Once the button is uploaded have your web developer link the button to:
https://johnsoncountyhomeandgardenshow.tix123.com/?disc=SAVINGS
lead card
Click Here
for the Lead Card. An easy way to track your leads as the show progresses.