Make a year's worth of sales in one weekend!
Meet your new customers at the Johnson County Home + Garden Show. Qualified homeowners attend the show annually seeking helpful advice, solutions and new products for their next renovation, décor or landscape project.

The Johnson County Home + Garden Show features high-interest exhibits, high-profile experts and the latest trends to bring in customers who are ready to move ahead with their home improvement projects.
2021 BOOTH RATES
Call today for booth rates!
317-810-7318 Ext. 152
Payment for Exhibit Space Includes
Draping: An 8' high back drape and 3' high side drape, for smaller and connected spaces.
I.D. Sign: A standard company identification sign, 7" x 44".
Exhibitor Badges: 5 badges for every 100 square feet of exhibit space, up to a maximum of 20 badges.
Complimentary Tickets: 40 complimentary electronic tickets
Exhibitors are responsible for carpeting (required for all booths), tables, and chairs within their exhibit spaces. Exhibitors can bring their own items, or rent them from the Show Decorator, George Fern Company. You may call George Fern Company directly at 816.221.0525.

Electrical service, water service, telephones and internet services can be purchased by visiting the Overland Park Convention Center website.
RECEIVE A FREE BOOTH QUOTE
MEET WITH QUALIFIED HOMEOWNERS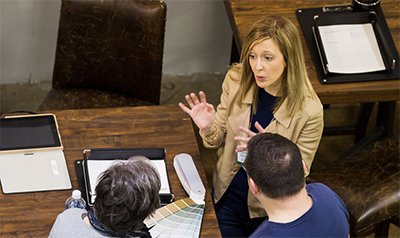 96%
are homeowners
73%
have a project
in mind

62% plan to spend up to $25,000 with an exhibitor from the show within the next 12 months

67% attend with a spouse or partner – meet BOTH decision makers
$105,172 average annual household income
Source: 2019 Marketplace Events Attendee Survey

Testimonials
"The Kansas City Home Shows have been beneficial in keeping our product in front of consumers. Consistency every year has been the key—we have existing and prospective consumers return each year and they know to look for us for the answers to their questions. We never skip a year—when the customer is ready to buy, they know we'll be there"

Roger Mose
M. MOSE & SON INC.

"We had a great experience at our first KC Remodel + Garden Show. The environment is fun and interactive. We enjoyed meeting other vendors and introducing homeowners to our company. We scheduled enough consultations to fill our calendar for two weeks and we continue to receive calls from folks who met us at the show. We've already reserved a booth at next year's show!"

Joey Ford
THE BLIND BROKER

"The shows are well-organized and the show team is very accommodating—quick and prompt to answer any questions, and they make it easy for us throughout the whole process. I was impressed when they called after the show to make sure we had a good experience. I can always count on a good crowd, with qualified homeowners who are interested in the exhibitors at the show. We loved the venue, and Marketplace Events does a great job making sure the show floor is clean and wellmaintained. We definitely get a huge return on our investment and I look forward to the Marketplace Events shows every year. My one complaint is that I'm not able to do more shows."

Brett Enkelmann
LEAFFILTER NORTH OF MISSOURI

"The show team is always very professional and accessible on show site and throughout the year. If we have concerns, they are taken care of quickly. Move-in and move-out are always smooth. We definitely get our return on our investment and we know Marketplace Events does what they can to make us successful. We like to be seen, and the home shows allows us to have a branding opportunity to put our company in front of a qualified audience. We've had a great experience and look forward to these shows every year."

Danielle Jenkerson
PIERMAGIC FOUNDATION SYSTEMS

"I only do three shows per year in the Kansas City area and all are produced by Marketplace Events. Their show teams are excellent. They are quality shows that the public truly wants to attend."

Larry W. Cunning
WATER DOCTOR

"This show and the spring show continue to be our most effective marketing events of the year. They are vital to the success of our business!"

Gary DiStefano
GARAGE LIVING

"This show is a great place to hear what customers want and be able to share how we can help them through their project!"

Elizabeth Costain
UBUILDIT KANSAS CITY

"I had a great experience."

Daniel E. Stewart II
CABINETS TRIM & PAINT

"This was a great show for me!"

Dan Troxel of Decks
LIGHTS AND DESIGN BY DAN

"Our first home show was such a great experience. The other exhibitors were so accommodating and nice. The show team was very helpful and made things so easy and comfortable. Not only was the show a good source for leads, it was also a great arena for networking! We will definitely do more shows in the future!"

Tamra Smith
BEST KANSAS CITY REFINISHING

"I think the show was great overall. You do an absolutely wonderful job and the show is excellent."

Sherie Amor Rodriguez
SOLAR SOLUTIONS OF MISSOURI

"The show was well-organized and advertised very well."

Janice Vobornik
ROLOX HOME SERVICES
Search the Exhibitor List
Exhibitor List